Young Speakers of Hackney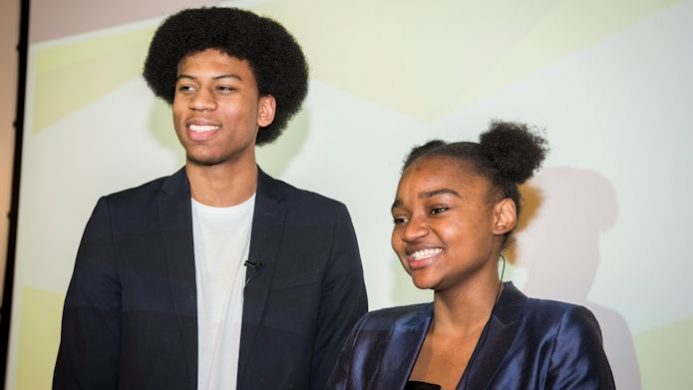 On January 24th a full Council meeting took place and the new Young Speakers of Hackney were announced! , which aim to better represent young people across the borough.
The first ever Young Speakers are Rose Ilunga and Kamani Williams, who are also members of the Hackney Youth Parliament. This new roles aims to better represent young people in our borough. As well as being a voice for the Parliament, the Speakers will be working towards improving the lives of young people in the Borough, by attending Council meetings and working directly with the Mayor and Speaker.
Both Rose and Kamani aim to increase youth participation in politics and will be visiting schools and youth hubs to hear the wider views of the community and decide on their priorities for the upcoming year.
Rose ilunga, aged 16 said:
"My priority is to spread the word that living in hackney doesn't and shouldn't limit your future. We need to stop the stigma relating to where we grew up and what we can achieve. I also want to appeal to the young women of Hackney and continue the journey to self-acceptance and self-praise. I personally don't want to conform to the passive position that society has pinned onto me and what better than becoming a young speaker! Especially since this year marks 100 years since the works of Pankhurst and Fawcett were acknowledged and women were granted the vote! What an honour!"
As well as attending meetings and campaigning, the two Young Speakers will also go to events alongside the Mayor and Speaker such as Hackney Carnival, Hackney Sports Awards, Well Street Market and help promote what's on in the borough for young people.
Kamani Rasheed Williams, aged 18 said:
"There are three things I wish to focus on in my role as a Young Hackney Speaker. I want to help end the stigma of mental health and highlight the mental health needs of young people in Hackney to improve the support on offer. I also wish to learn more about how the socio-economic position of families affects young people in the borough and if an increased political youth voice can change this and level the playing field for future outcomes. Thirdly I wish to talk to those from Black and Minority Ethnic backgrounds about barriers they face as well as promoting inspirational stories to help motivate and encourage other young people to be a positive force in their peer groups and communities."
They sound super intelligent and passionate right? That's because they are! We think the council chose amazing young people for the first ever Young Speakers of Hackney! And we can't wait to see what positive things Rose and Kamani do for young people in our borough.
---
Any young person who wants to become a Young Speaker of Hackney will have the chance later this year in October. Those interested can put themselves forward for the 2018 Youth Parliament elections and declare their interest as a manifesto pledge. Once the Hackney Youth Parliament has been elected later this year the group will select one male and one female representative as Speaker.
If you are interested in finding out more about how to become part of the Hackney Youth Parliament then please contact Yasser.Hussain@hackney.gov.uk