Hackney Youth Awards nominations are now open!
Award Ceremony takes place early next year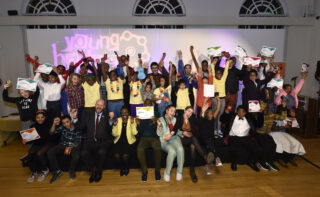 Young Hackney is pleased to announce the 2022 Hackney Youth Awards.
These awards are given to young people who you have successfully worked with in 2022 that recognises and celebrate their achievements no matter how big or small.
A Young People's panel will shortlist and make the final decision on the winners through a formal judging process.
All shortlisted young people will then be invited to the Youth Awards ceremony, where the winners will be announced. Non shortlisted young people will receive notice and a certificate of achievement.
This Award Ceremony is a special evening filled with entertainment, presenters, and inspirational speakers and refreshments. This is our 6th year of this event and it is always a great night. We also provide trophies and certificates for all those shortlisted.
If you know of any young person or a team that deserves this recognition, this is your opportunity to nominate them for an award.