Hackney Youth Parliament
The voting for the new Hackney Youth Parliament 2018-2020 starts on 26 September 2018!
Candidates took part in two hustings at Forest Road Youth Hub and The Edge Youth Hub. They were able to share their manifestos and present what they would hope to bring to the table as a member of Hackney Youth Parliament. The Mayor and Deputy Mayor were also in attendance to support candidates and hear the fresh new ideas they had !
Voting closes: 16 October 2018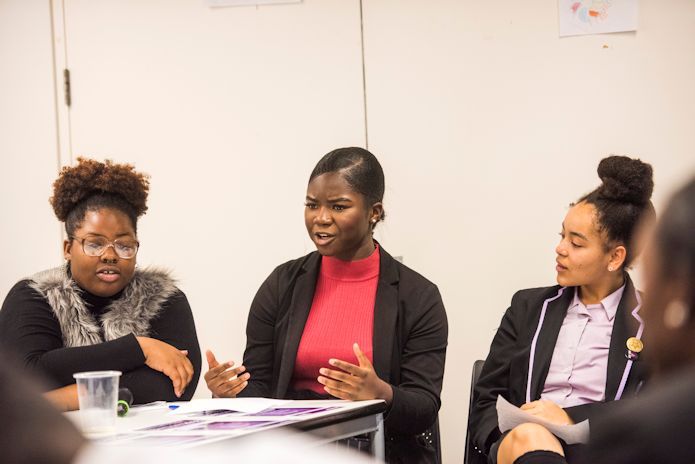 Ballot boxes will be in all secondary schools and youth hubs across the borough, as well as the booklets with each candidates full manifesto!
---
Hackney Youth Parliament represents the views of young people to decision-makers in the borough. We run regular campaigns on the issues that matter to you, and hold regular events and consultations.
There are twenty four elected members of the Youth Parliament and four additional members from specialist forums (young people with disabilities, Young Carers and Looked-after Children).
Elections for the current 2016-18 Youth Parliament took place in October 2016. The Mayor of Hackney, Philip Glanville, announced the election results at a special event at Young Hackney Forest Road. Following a series of team building sessions our Youth Parliament are pumped and ready to influence change in our community.
They've already started to take action by taking part in consultations for public health and distributing the Hackney Young People's Survey; a way of gathering some valuable information from our boroughs young people. And that's just the start, they also have some exciting campaigns lined up as well as a series of debates, which will be kicked off with their first in recognition of LGBT month.
---
Check out more pictures from the event.
---
2016 Election results:
Elected for Hackney North
Rapheal Addai, Wesley Baro, Tushig Baygal, Nazmine Begum, Lola Cleary, Louis Comach, Shakarah Edwards, Skye Fitzgerald Mcshane, Billie-Jo Moorton-Elderton, Tarah Norris, Aisha Pirbhai, Safaa Pirbhai, Anwer Siddig.
Elected for Hackney South:
Emmanuel Akin, Nyah Buffong, Khadesha Hibbert, Femi Ijelu, Rose Ilunga, Mafio Ison, Nia John, Maryam Mohamed, Kayra Ozsezer, Kairi Weekes-Sanderson, Kamani Williams.
Our role is to listen to young people and tackle the issues that matter to you. In the past we have worked with Hackney Councillors to improve post-16 careers advice; and with local schools to improve the quality of PSHE education. Our latest campaign 'Say Something if You See Something' aims to raise awareness of Child Sexual Exploitation.
Elections for Hackney Youth Parliament take place every two years – anyone aged 11-19 can stand as a candidate.
You can get in touch with the Youth Parliament using the form below, by emailing  yh.online@hackney.gov.uk or by calling 020 8356 2200 (10.00am – 5.00pm).