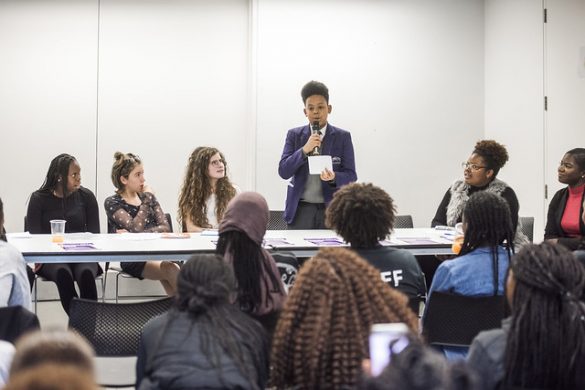 Think you could represent young people in Hackney? Hackney Youth Parliament are recruiting now!
Hackney Youth Parliament (HYP) is a group of young people with the common goal of amplifying the 'youth voice' into a public sphere via campaigning and active involvement in Hackney.
Our aim is to help make Hackney a better, safer place for everyone that lives, works and visits our wonderful borough.
HYP is looking to add additional members for two reasons: firstly we wish to accurately represent our vibrant community and secondly, we have a few members who are leaving to attend University.  
To become a HYP member you have to be:
A young person who is a resident or attends a school in Hackney, aged between 11 and 19 years old (inclusive)*.
*We especially want to encourage those who are underrepresented in our current cohort to apply: young men, members of the LGBTQ+ community and members of the Jewish, Turkish and Kurdish communities.
---
What happens if I get elected?
Once you are elected you will be expected to find out the concerns and needs of other young people in our borough, and represent these views to decision makers on a local level

During your term in office, you will have the opportunity to get involved in a variety of events, projects and campaigns

The Mayor of Hackney will be keen to hear from you, and many HYP members develop a productive working relationship with the Mayor's office, often having meetings at Hackney Town Hall

You will attend a residential this summer, to get to know your fellow young parliamentarians as well as other trips organised by HYP.

You will have the opportunity to stand for the UK Youth Parliament as well as The boroughs London Youth Assembly representative.
"Hackney Youth Parliament has been an invaluable experience for me. I've gained confidence and improved my public speaking. Going on residentials and campaigning for issues we are passionate about have all been amazing. Being part of Youth Parliament opens you up to a massive range of opportunities that are irreplaceable, and it looks great on your CV! You truly get to make an impact and be the voice for the youth in Hackney which is so important right now!"

Skye Fizgerald Mcshane, UK Youth Parliament member and HYP member 2016-18
---
How much time do I need to commit?
If elected your term in office would end in October 2020. On average you will need to commit three hours per week on HYP activities.
---
What skills can I develop whilst being an MYP?
Critical thinking skills

Communication skills

Public speaking skills

Greater knowledge of politics and current affairs

Debating skills

Leadership skills

Negotiation skills
---
What is HYP currently working on?
An environmental project working to ensure that Hackney's Youth Hubs are the most eco-friendly in London.

Organising a youth-led Mayor's Question Time.

Supporting the London Youth Assembly, with the London wide campaign to tackle Knife Crime      
---
What should I do next? 
If you are passionate about impacting your community apply here (Applications deadlines 24th June)
Alternatively, if you have any questions or would like to organise a visit email Curtis Worrell or call 07971 124197
---
"Hackney Youth Parliament was truly a force of nature! I had no idea it existed nor any knowledge of the monumental influences they had amongst the youth of the borough. Luckily, I quickly came to know of them and readily began my involvement. I had the desire to not only elevate my own personal development but to elevate other young people. I am now surronded by a group of positive, like-minded individuals that i consider family. I can truly say that HYP has exceeded my expectations.  This joruney  is definitely for those ready to take on new responsibilities, opportunities and for those thrill-seekers who are comfortable feeling uncomfortable!"

Beverley Tetteh, Hackney Young Speaker and HYP member 2018- 2019.