Elections for Hackney Youth Parliament take place in October at youth clubs and schools across the borough. This is your chance to have your say and influence decisions that will affect your life in years to come.
What is the Hackney Youth Parliament (HYP)?
HYP aims to represent the views of young people in Hackney to decision-makers in the council and in public services such as the Police, health services and housing providers.
Who decides who will be part of the HYP?
You do! By voting in this election you will make sure that young people's views are heard in Hackney.  There are 24 elected members of Youth Parliament, as well as four co-opted members from Hackney Gets Heard (the Children in Care Council), Young Carers' and the Disabled Young People's Forum. This means the Parliament represents all young people in Hackney.
How can I vote?
Forty three candidates are standing for election and will be canvassing over the next weeks in youth clubs and schools. Voting by ballot will take place at secondary schools, colleges and youth clubs in October. There are two constituencies in Hackney – Hackney North and Hackney South. You can vote for up to 13 candidates if you are voting in Hackney North, and up to 11 candidates in Hackney South. If you do not attend school in Hackney but wish to vote, you can vote at your local Young Hackney centre.
---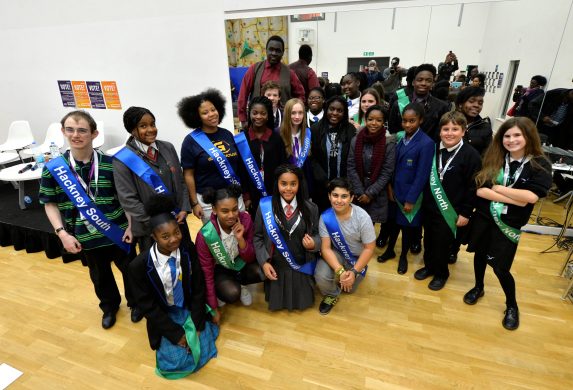 Two years in the life of a Youth Parliament
Ella Cox, UK Youth Parliament member for Hackney, explains her role in the Youth Parliament over the last two years:
'I joined Hackney Youth Parliament with the desire to change the lives of my fellow young people in Hackney. I believe Hackney Youth Parliament gives you the opportunity to use your imagination and collaborate with a diverse range of young people who share a passion to make a difference.
In two years (that goes so quickly when you meet for 5-7pm every Monday), I have been able to organise youth conferences for International Women's Day and to raise awareness of Child Sexual Exploitation, work on media campaigns to fight stereotypes in Hackney and have sat in on Council meetings to ensure the voices of young people are taken into account – just to name a few things.'
---
Casting your vote: make it count
Before you vote, you should read through the Candidate manifesto statements. There are two constituencies in Hackney – Hackney North and Hackney South.
Think about your reasons for voting – which issues concern you the most? The lack of affordable housing? Tackling discrimination? Keeping Hackney clean and safe?
Young Hackney Leadership Programme
If you would like to learn more about other leadership opportunities available through Young Hackney, please email getinvolved@hackney.gov.uk or call Young Hackney on 020 8356 7404.