It's World AIDS Day on 1 December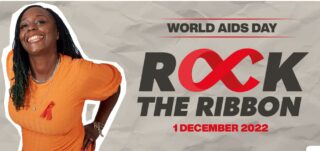 Thursday 1st December 2022 will mark the 34th World AIDS Day, with UNAIDS placing the focus on addressing inequalities in access to treatment, prevention and support. In the UK there are approximately 106,800 people living with HIV, with approximately 5% unaware that they're HIV positive. This included 2,955 new HIV diagnoses in the UK in 2021.
Positive East has been commissioned by the London borough of Hackney and City of London to develop a programme to improve the sexual and reproductive health outcomes of black and global majority communities in the borough. Designed and delivered by the community, the programme includes a resource hub, free condoms & lube, one to one support through befriending and advocacy, and a community grants programme to deliver new initiatives focusing on healthy relationships. To learn more about the programme, visit www.positiveeast.org.uk/hccommunity 
There will be a  launch event at Hackney Town Hall at 12:30-1:30pm. You'll find out more about the programme and its aims, connect with Positive East and others working in the community, and learn about the ways you can be involved.
Although HIV is a manageable long-term health condition, last year's National AIDS Trust research showed that public attitudes and knowledge of HIV haven't progressed:
Only a third of respondents said they have sympathy for people living with HIV regardless of how they acquired it.

1 in 5 think people think you can acquire HIV through kissing.

Only 16% knew if someone is on effective treatment, they can't pass HIV on (undetectable = untransmittable) and can expect to live a long and healthy life.
In Hackney, Positive East will be taking their mobile testing van to Mare Street at the bottom of the Narrow Way on Thursday 1st December 10am-3pm. 
The service is fast, free and confidential and with a finger-prick of blood you'll find out your HIV status in the appointment. You can see all the venues that Positive East tests from and book your appointment at www.positiveeast.org.uk/hivtest
Positive East will also be offering resources and advice at Hackney Central Library on Wednesday 31st November 11am-2pm and Dalston CLR James Library on Thursday 1st December 11am-2pm. You'll be able to collect a red ribbon to show solidarity to those living with HIV and an opportunity to share the message that someone who is on effective treatment cannot pass on HIV. They will also have information about how to access free PrEP (pre-exposure prophylaxis), HIV prevention medication through the NHS, and details of peer-support, counselling and information & advice services available to those living with HIV.
The Young Hackney Health & Wellbeing Team will be discussing and answering any questions about HIV and testing at their regular drop-in sessions at the Young Hackney hubs from 28 November to 9 December.