Hoxton Hall Summer 2023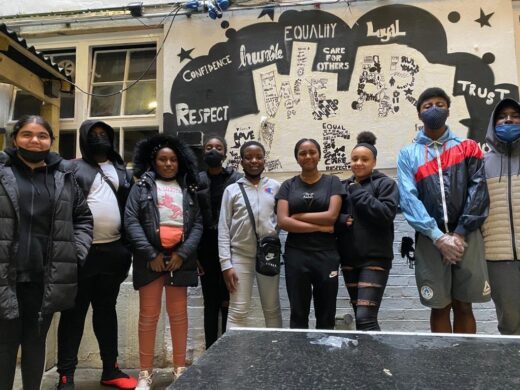 Hoxton Hall Youth Arts Department offers free arts and performance activities for young people up to 19 years old (21 with special educational needs and/or disabilities [SEND]). As part of their projects, you will have the opportunity to perform at the end of term sharing in their beautiful theatre and music venue.
Dates: 24 April – 15 July (half term the week of 29 May), with the end of term sharing on 17 July in the main theatre.
Please complete the registration form to attend and we will get back to you to confirm your place.
Mondays 4 – 5pm
Young Dance (7-10 years)
A fun dance class learning different expressive dance moves, dance routines and games.
Mondays: 5 – 6pm
Young Dance Company (11-16 years)
Get moving with our professional dance teachers learn new techniques and have fun.
Mondays: 5 – 7pm
Music, Production, Recording to Collaborate! (14-19 years, up to 25 with SEND)
Opportunity to learn from music professionals on how to produce, write and record your own tracks in collaboration with other young artists.
Tuesdays: 4.30 – 6pm
Inclusive Young Women's Group (10-14 years)
Creative wellbeing project.
A friendly space to chat, relax, make new friends, and develop confidence. Through group chats, art, and drama games, we will explore themes of identity, healthy relationships, and positive role models. To inspire, empower and celebrate.
Wednesday 4-5pm
Art (7-14 years)
Fun art activities including painting, collage, drawing or clay. We encourage fun through art and working together.
Wednesdays: 5 – 6.30pm
Young Leaders (13-17 years)
Take part in fun team-building activities to gain confidence and experience in event management and social action projects.
Together organise your very own show or event at Hoxton Hall.
Thursdays 4-5pm
Young Drama (7-10 years)
Playing characters, making up stories, learning to have confidence on stage through all creating a short play.
Thursdays: 5 – 6pm
Young Drama Company (11-16 years)
Learn new drama and acting techniques while working towards performing to friends and family in our beautiful theatre.
Saturdays: 11am – 1pm or 2pm– 4pm
Music Production (14 – 19 years, up to 25 with SEND)
Our Youth Music Co-ordinator is available to help you create and make your own music and beats in our fully equipped studio.
Weekdays: Music Studio Sessions for 14 – 19 year olds, up to 25 with SEND
(Session times will be allocated).
This term we are delighted that our music programme has been extended so you and friends can book a music studio session during the week to work on your own tracks or collaborations.
We will also be holding group sessions learning production skills and giving advice and information to help you navigate the music industry.