Volunteers' Stories
For Volunteers' Week 2022, we interviewed some of our Young Hackney volunteers about why they volunteer with us. Here are their stories.
---
Alex and James
Who are you?
We are Alex and James, both in our mid-30s, working in Publishing and Retail. We've lived in Hackney for over ten years, in fact we've never lived anywhere else in London, and we love everything about this ever evolving borough and are excited about starting a family here too.
What project are you volunteering for?
We're volunteering for Hackney Marsh Adventure Playground down in Kingsmead Estate. It's a fantastic project for the community run by an incredible team of passionate individuals that want to give children the freedom to express themselves and be free in a safe environment.
No play seems to be off limits – want to have a water fight? Sure. Want to garden and look after the tadpoles? No problem. Helping kids to paint or enjoy movie nights? Absolutely.
It's so much fun. We've initially just begun with a few weekend days but as the warmer weather and brighter evenings roll in, we're looking forward to helping out more in the weeknight evenings too.
What is the impact of your volunteering to young people?
Young people are always a bit curious when new people come into their world. They've been very interested about us helping out and slowly have begun to warm to us more and more, coming up and asking us to help out with their games, or asking us if we can help them build an art gallery. It's been so incredible gaining their trust, hearing their stories, nurturing their skill sets and seeing them have uninhibited fun.
How has volunteering helped you?
We're looking to build a family soon through adoption and volunteering with children in our community was really important to us so we could gain experience around children of different ages and also learn more about what Hackney offers young people growing up. This volunteering experience has not only given us that experience but has also made us feel really excited about raising a child in this part of London.
Why would you encourage others to volunteer with Young Hackney?
We had no idea before we looked into volunteering just how many incredible free services for children there are in the area. If you're looking for a diverse experience with children, or for a way to give back to an amazing borough and community, then we couldn't recommend this more.
---
Declan
Who are you?
My name is Declan Bissick, a former resident within the borough of Hackney. Currently, I work as a Senior Project Management Consultant at a professional services firm. I had spent 15 years growing up in the borough and moved to Surrey just before attending college. Since moving, I regularly came back to visit my family and close friends. I started volunteering more than 3 years ago, as I wanted to give back to my hometown in some way. Young Hackney seemed to be doing some great work with the youth in the borough and I wanted to be a part of that.
What project are you volunteering for?
Shoreditch Adventure Playground
What is the impact of your volunteering to young people?
I have seen first-hand some of the young people's attitudes change. When you show that you are there for them and feel at ease to be open with you, they really do warm to you. Initially, I had made a conscious effort to play with them all and get to know them on a personal level to break the ice. Now, I would say that many of them are like extended family at the adventure playground and I thoroughly enjoy volunteering there.
How has volunteering helped you?
It has shown me that a minute amount of my time can make a big impact to so many children. Just being there to play with them and discuss certain matters makes a huge difference. My patience has also increased since I started to support Young Hackney, as some of the children are going through difficulties whether that be at school, home or their local area. This has meant that at times they may be off with you, but I have learnt that sometimes time is the best solution for certain matters.
Why would you encourage others to volunteer with Young Hackney?
I would say volunteering is beneficial for everyone in society. It is important to give back where you can whether to be through charity, mentoring or volunteering. You feel so good doing it, as you can see the impact your efforts have made in real-time!
---
Rachel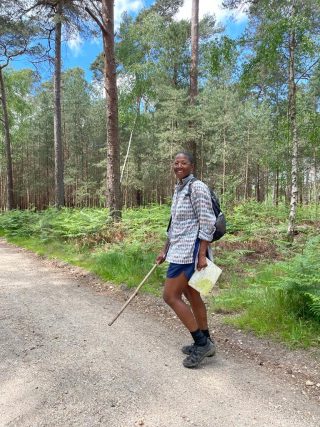 Who are you?
Rachel Hippolyte, an outdoor educator and food grower working in East London.
What project are you volunteering for?
Young Hackney, Duke of Edinburgh
What is the impact of your volunteering to young people?
Without volunteers the the programme couldn't run and the young people involved wouldn't have the opportunities to explore the countryside, seeing amazing views and scenery so different from where they live and often have grown up in the city. The Duke of Edinburgh's Award is a programme that encourages personal growth and the development of confidence, resilience and independence. As a volunteer I try to support the young people to get the most out of the experiences they are having and provide them with a different lense or perspective to approach the challenges they face, as well as the world in general.
How has volunteering helped you?
It has helped me to build a career working with children and young people outdoors, not only providing me with experience but giving me the practical skills through training. I have met a nice community of people who are great to work with and also have knowledge and skills they are willing to share.
Why would you encourage others to volunteer with Young Hackney?
It's great to learn new things and feel like you're contributing to your community. It's fun and flexible and always interesting. Being surrounded by nature whilst helping to shape young lives…nothing beats it!
---
Sofia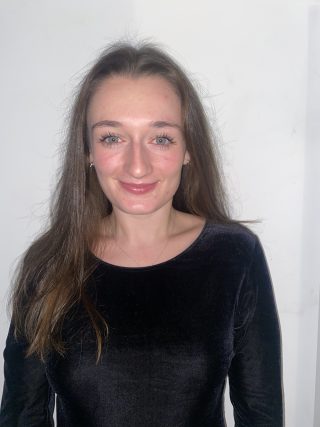 Who are you?
I'm Sofia, and I'm a student and volunteer here at Young Hackney.
What projects have you worked on?
I support staff and young people in all activities from cooking to having targeted discussions on subjects that concern our young people.
What is the impact of your volunteering on young people?
Over the past few months, I have developed positive relationships with young people. As part of the staff, I provide a safe space where young people are comfortable sharing some of the challenges they are facing and how I can best support them. They appreciate that I am there on my own time and understand that I am there to help them in any way I can. Overall I think they are happy to see me when I come in and enjoy catching up on what's going on in their lives.
How has volunteering helped you?
Volunteering at Young Hackney has helped me connect with people from all backgrounds and better understand my community. I'm happy that the young people consider me as someone they can talk and relate to. The role has taught me how to mentor young people and be a person they can trust. They know they can talk to me about anything, or even just enjoy a quick game of table tennis.
Why would you encourage others to volunteer?
I would encourage everyone to volunteer with Young Hackney because it is a rewarding experience: you watch young people grow and are there to support them through an important phase of their life. It gives you a sense of community and you see the impact you have on them. The young people are happy to have staff members that safeguard their wellbeing and do appreciate what we do.
---
If you would like to volunteer with us, please check out our Volunteers page for more information on how to apply.