Chifa K wins Alter Ego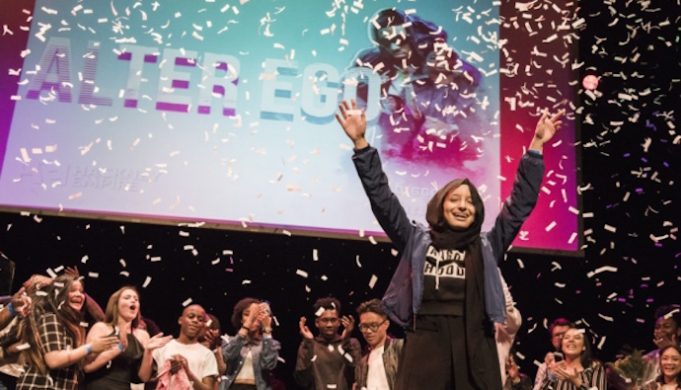 Chifa K was crowned the winner of Alter Ego 2017 in front of a sell-out crowd at Hackney Empire.
Nine acts performed in the final of Hackney's number one talent contest, hosted by Snoochie Shy and Kat B. The event launched the Council's youth arts festival, Discover Young Hackney, one of the biggest of its kind in the UK.
Chifa, 18, wowed the audience with an original spoken-word piece. She said: "I wasn't expecting to win tonight! I loved every minute of Alter Ego, I love Hackney, there are so many talented people here … don't ever listen to the bad things people say, whatever you want to do just go do it, work hard for it."
Second place went to Urban Flames, a fifteen-strong choir of singers aged 16 – 18, who brought the house down with their original song, The Art of Love. Princess, one of performers in the group, said: "It's a powerful moment for us to come in second place and I am very proud of everyone here and everyone that is part of it. Alter Ego is amazing, it is a lovely experience."
Cai, a 15 year-old solo singer, came in third place singing Say Yes by Floetry. He said: "I liked working with the other contestants, I didn't really see it as a competition because everyone was so good and I kind of fed off everyone's energy, it felt really good. I think it's a really good programme to get your talent on stage – I've seen myself on other people's Snapchat, I feel like I've gone viral!"
The acts were followed by a stellar headliners Big Tobz, Yxng Bane, Vianni as well as special guest performances from Daj Jordan, Steppaz and Avant Garde Dance crew.
Visit the DYH website for the full Discover Young Hackney festival programme. The festival is running right through the summer until September. You can also keep up-to-date on the festival by following Discover Young Hackney on Facebook, Instagram and Twitter or by using #DYH17.
Alter Ego finalists
1st – Chifa K (Chifa Khelfaoui)
2nd – Urban Flames
3rd- Cai (Kai Rowe)
Penvision (Peter Onuba)
Prophet (Elijah De Ocampo)
Nina Hudson
Shalamar B (Shalamar Baker)
Edweezy (Edward Boateng)
Nickoy Nelson