Not3s secret MTV gig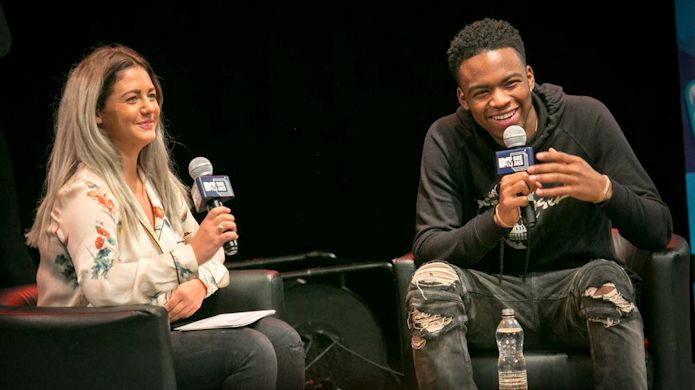 MOBO nominated musician Not3s visited BSix Sixth Form College as part of MTV's EMA celebrations on Monday 6 November. Students watched an exclusive live streamed performance and took part in a question and answer session him.
On the anniversary of his career breaking hit 'Addison Lee', the young artist from North Hackney *visited the school where he had took part in music lessons as a teenager. He gave an acoustic performance and young people in the audience as well as online through Facebook Live, were able to ask Not3s questions about his experiences of breaking into the music industry, insider tips for young up-and-coming artists and his influences.
Not3s, 19, who is also former Hackney youth parliament member and resident said:
"There are loads of different types of people in Hackney, different ethnicities and cultural backgrounds, growing up with people from different cultures means you're learning different things. I think that could be a big influence on some of the things that I've done."
Once the live stream had ended the young audience were very excited by the opportunity to get their pictures taken with Not3s and make any last comments.
Nikolas Okoroafor, 18 from Dalston said:
"I was really inspired by Not3s' story, when you see local artists come back to their home, where you're from too, it makes you feel like if you work hard you can make it to where they are."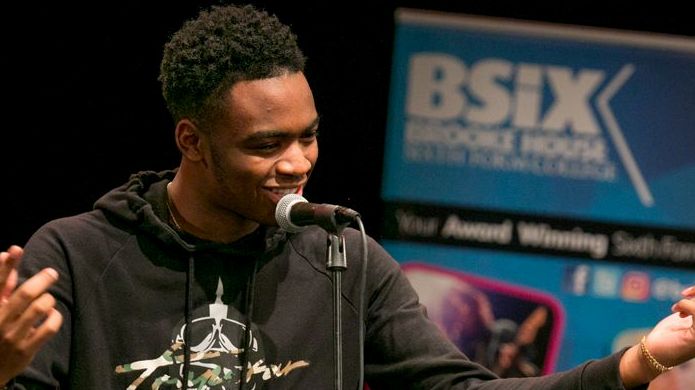 The event was organised by MTV Breaks, as part of their MTV EMA tour. The event was in partnership with Hackney Council's Discover Young Hackney culture festival and the Hackney Music Service.
Tobias Silvester, Music lecturer at Bsix said:
"We were delighted to host the live streaming at the College and it's a pleasure to be able to support artists such as Not3s who are just part of the wealth of musical talent we have in the borough. I've previously booked him for an event and he just keeps getting better and better."
You can watch Not3s' exclusive performance and interview with MTV here: https://www.facebook.com/mtvbreaks/videos/vb.1542765529276821/2043053185914717/?type=2&theater 
And you can follow Not3s and his music here: Twitter: https://twitter.com/not3sofficial  Instagram: https://www.instagram.com/not3sofficial/  Facebook: https://www.facebook.com/Not3s-1440817175979720/
It's important for us to support home-grown talent!
---
Find out more about MTV Breaks and their #LondonisOpen Hackney takeover in Shoreditch which will feature more exclusive performances and interviews with top industry professionals at: www.mtv.co.uk/mtv-breaks/pictures/mtv-breaks-on-tour-four-days-of-industry-talks.