Hackney Sports Awards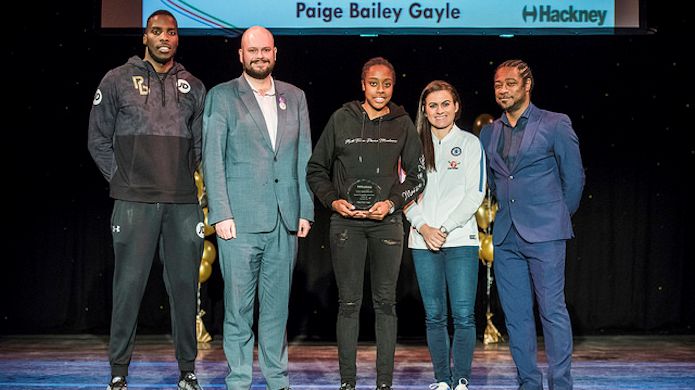 More than 600 people cheered on our borough's sporting stars as they were presented with awards for their achievements over the past year!
The 12th annual Hackney Sports Awards celebrated the sporting excellence of local schools, students, older people, coaches and volunteers, on Tuesday 6 February, at Hackney Empire.
Comedian Kat B compared the night, with special guests –
Hackney born Lawrence "The Sauce" Okolie, WBA Continental Cruiser Weight Champion, GB Olympic team boxing 2016, since turning Pro he is unbeaten in 8 fights with 6 knock outs. * In other words he's pretty incredible*
The second of the guests was Karen Carney MBE, England and Chelsea Professional women's footballer, FA Cup winner in 2012 and bronze medallist in the World Cup in 2015. * Again…pretty incredible!*
Julio Burnucci-Amador, who won the Under 18 Team of the Year Award alongside his Judo team mates said:
"What you put in is what you get out, we worked really hard as a team and therefore collected medals, I'm really happy."
The Sports Club of the Year Award went to Lea Junior Rowing Club, which helps young people learn how to row competitively. It is one of the best squads in the UK, yep you read right…the whole UK. And has won in prestigious competitions such as the British Junior Championships held in Strathclyde, Scotland. Coach of the Year also went to the rowing club, which was picked up by club coach Paul Carter.
Lucy Stackpool-Moore, Lea Rowing Club Captain said:
"This is a fantastic achievement for the Lea Rowing Club. Our junior rowers have gone from strength to strength supported by our brilliant coaches including Paul Carter. They have done our diverse club, and Hackney, proud."
Along with the awards was the Youth Sports Fund Awards, and recognition of the London Youth Games medallists, of whom all individual medallists over the age of 11 received a year's free Better membership to access Hackney Leisure Centres.   
Other award winners included: Maria Farr and Zeita Collins who won with Fit4Health. Laburnum Sports Sessions for young people with Disabilities winning the Better Inclusion Award. Under 16 Sports Person of the Year picked up by Cameron Standell Walker for Judo alongside Under 25 Sports Person of the Year, Emrah Mandurum who also does Judo.   
Under 16 winner Cameron Standell Walker said:
"I feel really privileged. The youth sport fund helps us to get opportunities we wouldn't get otherwise, I can now take part in my sport more regularly."
---
2017 Award Winners
Outstanding Contribution to the London Youth Games: Pele Julien & Clara Ajiako
Outstanding Team Contribution to the London Youth Games: Hackney Para teams
Most Improved Team in the London Youth Games: Hackney Youth Games Girls Volleyball Team and Boys Athletics Team
The London Youth Games Challenge Award: Stoke Newington School had the greatest participation in the London Youth Games 2017
Under 18 Team of The Year: Hackney Youth Games Judo Team
The Fit For Health winners: Maria Farr and Zeita Collins
Inclusion Award, sponsored by GLL: Laburnum Sports Sessions for young people with Disabilities
Club of the Year Award: Lea junior Rowing Club
Coach of the Year: Paul Carter Lea Junior Rowing Club
Under 16 Sports Person of the Year: Cameron Standell Walker – Judo 
Runners Up: Paige Bailey Gayle – Football
The Under 25 Sports Person of the Year: Emrah Mandurum  – Judo
Runner Up: Noah Williams – Diving