I AM ME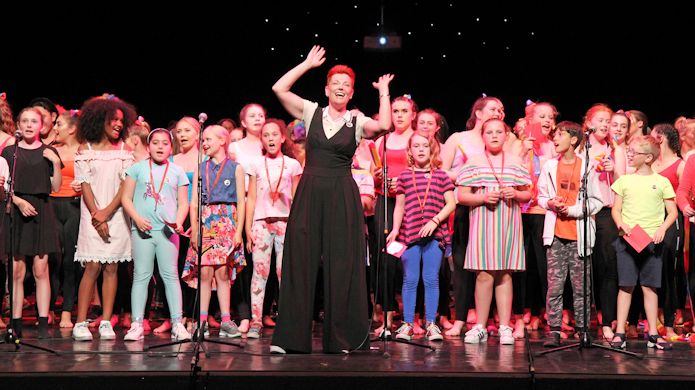 Over 100 young people came together to perform on the Hackney Empire stage last week, celebrating Hackney's  LGBTQI+ community with a variety show titled I AM ME, part of London's Pride Month of activities.
The show was created by Educate & Celebrate in collaboration with Hackney Museum and The Urswick School, who have achieved an Educate & Celebrate gold award for LGBTQI+ inclusion. The event was launched by speeches from Hackney Speaker Clare Potter and Mayor of Hackney Philip Glanville, who said:
"I am proud to see how far we have come, and how organisations like Educate and Celebrate, who started in Hackney, are now helping young people at schools in Hackney and across the UK, learn the value of inclusivity"
Educate & Celebrate began in Hackney, started by Dr Elly Barnes MBE a former teacher in Stoke Newington, it works with schools, colleges, universities and businesses across the UK to make them LGBT+ friendly. Elly said:
"Young people's voices are key to creating institutional change from the get go, our work is about building cohesive communities and a generation where being LGBT+ is embedded and just part of everyday life. This is why showcases like tonight are vital fro changing hearts and minds."
The show included sing-alongs to classics like The YMCA, spoken word, drama, dance and speeches. The colourful, emotional and fun night of performances saw the audience of all ages smiling and even getting up from their seats to clap along and wave their rainbow flags.
Martha Braggins, Deputy Head of The Urswick School said:
"It was a fantastic showcase both of the talent of our young people and of their commitment to diversity and inclusion.  We hope this event will become a regular part of the annual calendar for Hackney schools and that even more local schools will take part next year."
Bruno Pereira in Year 8 said:
"The night was full of emotional feeling and I really think it made people think about how we treat each other." Orobosa Okundia Best also in Year 8 said: "The showcase demonstrated that everyone has equal rights no matter what their sexual orientation and this is important to celebrate."
To find out more about Educate & Celebrate including projects and future events visit: www.educateandcelebrate.org  or follow @EducateCelebrate on Twitter.