Young market traders win national award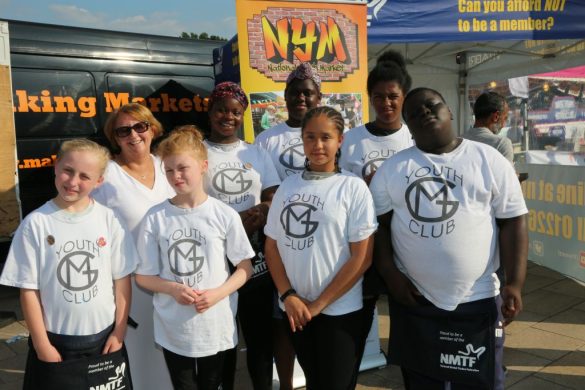 A group of young people from Hackney are following in Alan Sugar's footsteps after picking up a national markets 'Special Commendation Award' this month for setting up their own business.
Young people from the Gascoyne and Morningside estate youth clubs headed up to Stratford-upon-Avon to pick up the award after being nominated by the Council to the National Market Traders' Federation (NMTF).
From the beginnings of Tesco, as a stall run by Jack Cohen on Well Street, to Alan Sugar cutting his first deals at 16 on Chatsworth Road Market, the borough has a long history of nurturing entrepreneurship through street trading.
Gloria Baptista 14 years old said: "It was an amazing experience for us all. We met a lot of people and it was good to work at a different market. I feel really proud to represent Hackney."
The bath bomb and toy business is run by 12 young people and has been going for 18 months, with a regular pitch at Hoxton Market on a Saturday.
The members aged between nine-13 are making money from the idea as well as investing back into the company.  The young entrepreneurs deciding opening times, keeping tabs on stock levels and looking after customers. After a hard day's work, the group then decides how much of the profit to keep and how much they will invest back in the company.
Youth club manager Nicolette Nixon said: "I'm so unbelievably proud of them, they are very professional, they come out from behind their stall to speak to customers and tell them what they do- they give a really positive view of Hackney to everyone."
Cllr Guy Nicholson, Cabinet Member for Planning, business and investment said:  "Hackney has a long history of getting young people onto the entrepreneurial ladder through our markets. From the early days of Tesco right through to the present day when we have children as young as primary school age creating and selling their own products. We do a range of things to support our future business leaders from our touring markets, work experience trials, to our slime making workshops – this not only embeds the service within the community but offers real life opportunity and experience to our young people, keeping our markets relevant and our trader numbers and customer base future proofed."
Joe Harrison, Chief Executive, NMTF, said: "Young people from Gascoyne & Morningside Youth Club were awarded a 'Special Commendation' at the National Youth Market. This is the first time that the NMTF has given out this award. Judges wanted to recognise G&MYC for their 'community value,' acknowledging the importance that markets play in providing a platform for activities that deliver social and cultural benefits for local communities.They were impressed by the young people's enthusiasm, passion, and energy for their stall, noting the creativity of their products and their confidence in engaging the public. And I couldn't agree more – congratulations G&MYC!"
Those under 18 looking to get involved with the project simply need to attend the youth club sessions that take place four days a week at the Morningside Community Centre in
Cresset Road and the Gascoyne Community Centre in Gascoyne Road, or contact: nicolette@percyshort.co.uk.