E Kidz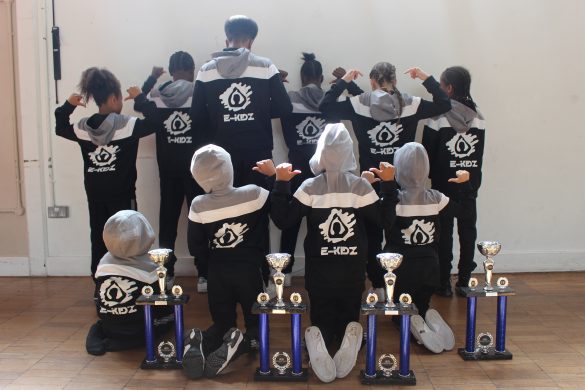 The Hackney Youth Opportunity Fund is a scheme managed through Young Hackney, that awards successful groups of young people with grants worth up to £5,000. Young people can apply for grants to run a project, workshop, trip or activity of their choosing for other young people.
In the most recent round of applications Hackney based dance group E-Kidz, pitched their overseas trip to the Youth Opportunity Fund Panel, a group of young people aged 11-19. The panel were unanimous in their decision and awarded the young dance troupe with £4,500.
E-Kidz are Concorde Youth Hub's resident dance group and train at the hub every week, they are aged between 8 – 13 and have been dancing together since 2015. The UDO European Street Dance Championship in the Netherlands has been on their bucket list for a while.
The championship took place in the Netherlands, 10-12 May 2019 and after two days of non- stop dancing, E Kidz brought home an incredible four trophies. With the grant they were able to pay the entry fee for the competition, purchase costumes and costume printing, pay for accommodation, travel and more. Following their trip E Kidz said:
"We want to say thank you so much to Young Hackney and everyone part of making the Hackney Youth Opportunity Fund possible, we loved every minute of our trip. It was hard at times but all our training and rehearsals paid off! We would encourage other young people to get involved and apply for the funding, you won't regret it!"
---
Categories:
1st – Under 14 Duo Novice
2nd – Under 8 Beginner solo
2nd – Under 14 Intermediate Solo
6th – Under 14 Intermediate Team
E Kidz members:
Taliyah Oyema-White
Maxwell White
Izaiah Buttler
Romeo Notice
Amor Antoine
Cairo Antonio
Lay'ahni Hope
Laniyah Hope
Rio Hope
India Hope
---
If you are interested in applying for the next round of Hackney Youth Opportunity Fund you need to be aged 8 – 19 and live, work or study in Hackney. You also need to form a project team with at least two other young people. If your application is chosen you will be called in to pitch your idea in more detail to the HYOF Panel. For more information please contact curtis.worrell@hackney.gov.uk.