Summer holiday programme 2022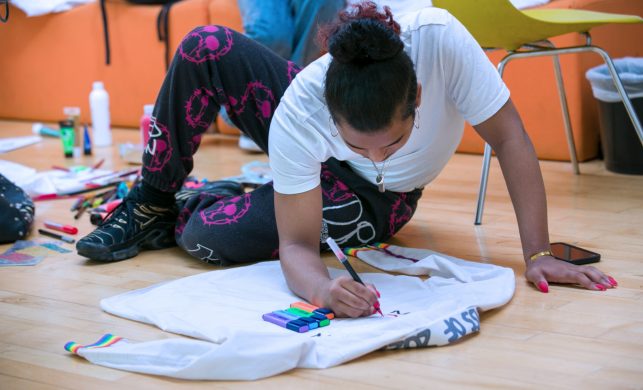 The Young Hackney Summer Activities Guide contains all the information you need about all the fun free activities going on for young people in Hackney this summer, aged 0-19.
---
Young Hackney's summer holiday programmes for young people aged 6 – 19 (25 with SEND) will take place over five weeks from 25 July to 26 August.
We've planned exciting and varied programmes of activities, events and opportunities for all age groups and abilities, which includes arts and crafts, multi-sports and games sessions.
There are limited places available, so we encourage children and young people to book their place in advance by contacting their preferred hub.
---
Forest Road Youth Hub – 29 Forest Road, Dalston, E8 3BY
020 8356 2200
Juniors (6 — 12 years): Monday to Friday 10am — 3pm
Seniors (13 — 19 years, up to 25 with SEND): Monday to Friday 4pm — 8pm
The Edge Youth Hub – 7 Woodberry Grove, Woodberry Down, N4 1SN
020 8356 1063
Juniors (8 — 12 years): Monday to Friday 10am — 3pm
Seniors (13 — 19 years, up to 25 with SEND): Monday to Friday 4pm — 8pm
Please note, there is a limit of 60 people per session daily.
---
All young people are required to have a Young Hackney membership to attend sessions. If you have submitted a membership form in the past, this does not need to be submitted again.
If you are currently not a member of Young Hackney, please print and complete the membership form.
Once you have completed the membership form, please register your interest for the summer holiday programme by printing and completing the consent form and handing any completed forms into your preferred youth hub.
Alternatively, please fill out the membership form and consent form and email to hazel.eddleston-lee@hackney.gov.uk (Forest Road) or darren.hinds@hackney.gov.uk (The Edge).
For more information, please call 0208 356 2200 or 0208 356 1063.
---
The Young Hackney Sports Unit will be running daily open access multi-sports sessions across various locations in Hackney during this holiday period. View the programme here.
Eastway – 80Z Eastway, Hackney Wick, E9 5JH
Parents or carers must fill out the Sports Unit consent form before attending.
If you have any questions about Eastway's programming, contact YHSportsUnit@hackney.gov.uk.
---
Young Hackney's adventure playgrounds, Shoreditch and Hackney Marsh, are open for fun and exciting play activities for young people aged 6 – 15 (18 with SEND), Monday to Friday 10am — 5pm.
Please email or call for more information.
Hackney Marsh Adventure Playground – Daubeney Fields, Kingsmead Way, Homerton E9 5PP
020 8986 7245
hackneymarshap@hackney.gov.uk
Shoreditch Adventure Playground – Shoreditch Park, Mintern St, Shoreditch, N1 5EF
020 7729 3770
shoreditchap@hackney.gov.uk
---
Concorde and Stoke Newington Youth Hubs will also be running a summer holiday programme.
To sign up to attend Concorde and Stoke Newington's sessions, please email jobrodie-mends@hmp.org.uk.
Concorde Youth Hub – Kingsmead Way, Homerton, E9 5PP
020 8510 0979
Juniors (7 — 13 years): Monday to Friday 1pm — 5pm
Seniors (13 — 19 years, up to 25 with SEND): Tuesday to Friday 6pm — 9pm
Stoke Newington Youth Hub – Chaucer Court, Stoke Newington, N16 8TS
020 7923 1633
Juniors (7 — 11 years): Monday to Friday 2pm — 4pm
Seniors (12 — 19 years, up to 25 with SEND): Monday to Friday 4pm — 7pm
You can view Stoke Newington's full programme here.
---
Holiday Activities and Food (HAF) programme
Throughout July and August 2022, Hackney Council will be teaming up with a number of schools, sports activity providers and community services to offer a wide range of exciting activities and a daily healthy free meal as part of the government-funded Holiday Activities and Food programme.